About Mr.Eman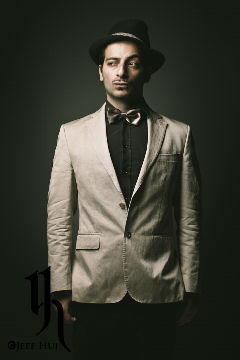 Mr.Eman has been performing magic professionally for the last decade locally, regionally and even internationally! 
From his hometown of London, Ontario to western Canada, across Europe and even as far as Japan. The lesson learned from all the travels is that the art of magic can transcend language barriers and the moments of amazements and awe are the same in every part of the globe.

Mr.Eman's first wedding performance came by chance. He was living in Banff at the time and his neighbours had heard about his magical performances and thought magic would be a welcome addition to their elaborate wedding. This wedding was an eye opener! From the postcard picturesque mountain scenery, to the beautiful outfits of the guests and the amazing food. A month later, the footage from this wedding appeared on FoodTV! on an episode of " I do...Let's eat" From this experience it was learned that weddings can be very entertaining if you let them be and magic almost always has a place.

The entertainment portion is one of the most memorable aspects of a wedding and is often what people talk about. (see weddings section for more on this!)

Since then, Mr.Eman came back to London and earned an engineering degree from UWO. During that time, Mr.Eman performed part time for local, public and private events.
Check the Facebook page for event details and be a part of the experience.
Magic is a beautiful thing..it can make a grown adult turn into a kid again. The look on their faces is why I'm in the business. Not because I fooled them, it's not a puzzle. But to make people happy in a way that no other medium of entertainment can. It's unique and seeing it live is a memory you're going to share for a long time. 

As a magician, I always encounter people who tell stories about 'this one magician years ago  who did this or that' and they tell these stories years, even decades later! The important question I ask them is where? What event? ...and this is where you come in.
It's the event planners that allow for these memories to happen :)


- Mr.Eman